Feel the magic of Ibiza from its crystalline waters
01
DAY TOUR
Leaving from San Antonio Port heading south we will be passing Port des Torrent, Isla Conejera and Isla del Bosque with views of stunning cliffs and rock islands in crystalline waters until we reach Cala Conta.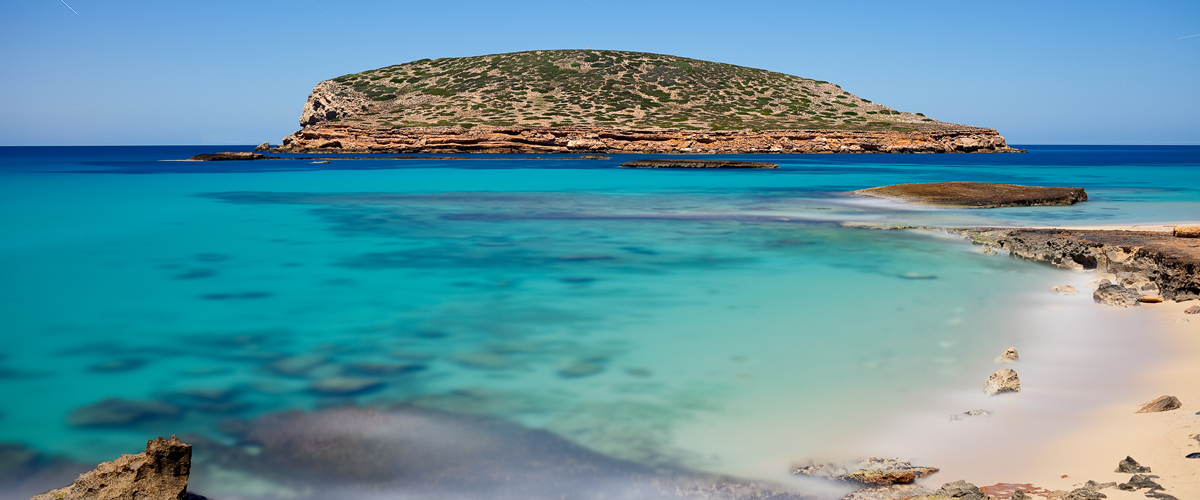 02
STOP IN CALA CONTA AREA
Once in Cala Conta, we will anchor close to the coast where you can enjoy the white sandy beach with it's picturesque turquoise waters. We will have a long stop here so that you can explore the famously crystalline waters Ibiza has to offer. Dare to snorkel and discover the marine fauna, aswell as get on a paddle surf board and explore the coast. When you return to the boat delicious tapas and fruits will be waiting that our staff have prepared. Our bar is at your disposal.
03
THE ADVENTURE CONTINUES!
We will head towards a pirate tower and pass through Cala Rodja, a wild rock cove that can only be visited by boat. From there we will head towards Cala Bassa.
04
STOP IN CALA BASSA AREA
Lastly stopping in Cala Bassa savoring one of the most beautiful coves on the western side of the island.
05
CUEVA DEL AMOR
After our last stop we will visit the Love Cave (Cueva del Amor), it's one of the largest caves from seaside on the island, not missing it we will be entering by boat so that you can have a closer look at this natural beauty.
Once the visit to the cave is over, we will head towards San Antonio Port. Thank you for choosing us and we look forward to more adventures together.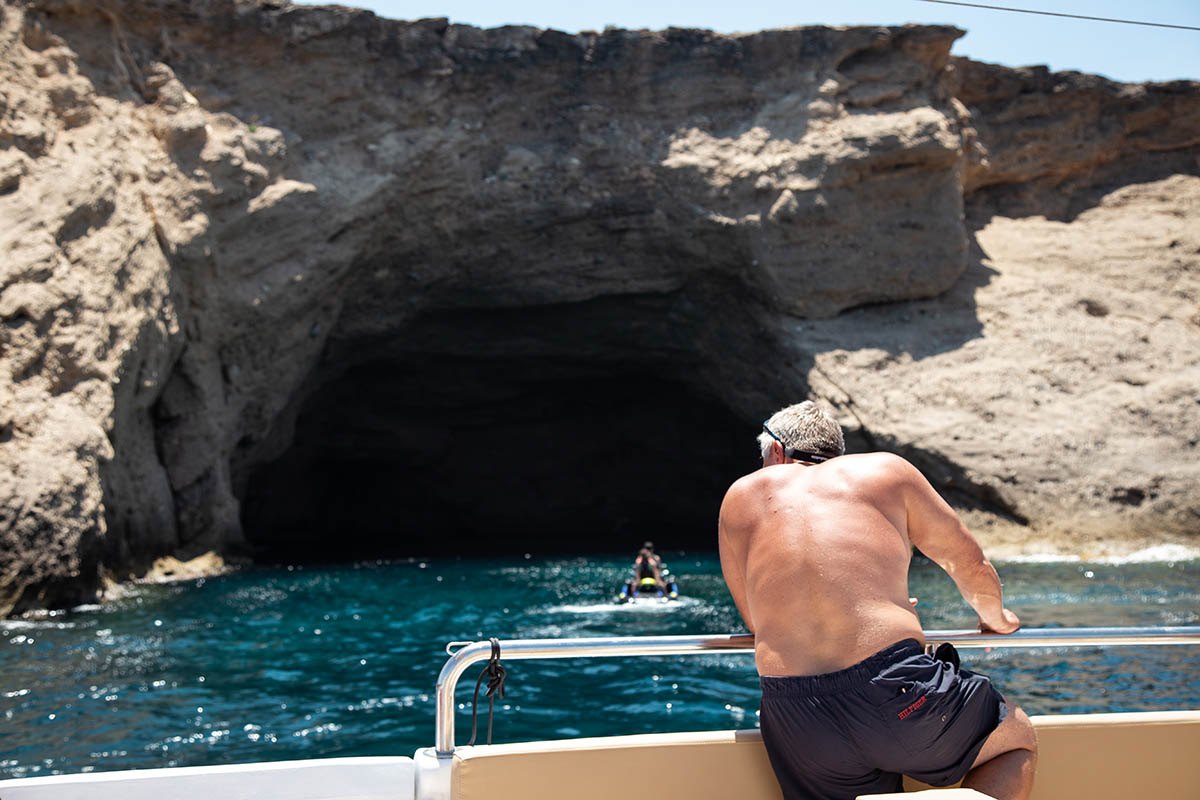 Enjoy the best boat trips in Ibiza. You will discover the wonderful and most spectacular coastline of the Balearic Islands.
The west coast of Ibiza is famous for its amazing turquoise waters, this makes it one of the most desired areas by tourists and locals alike.
During a pleasant tour, we will cross the bay of San Antonio, until we reach stunning beaches, such as Cala Bassa Beach or Cala Salada Beach.
On this excursion you will have the opportunity to enjoy an amazing day where you can do various activities such as Paddle Surfing and Snorkelling in the incredible crystal clear waters. But if water sports are not your thing, don't worry, let our crew pamper you with our open bar of drinks and Ibicencan tapas. Enjoy the new facilities of our luxury boat; relax, sunbathe and enjoy a paradisiacal swim in its iridescent waters.
Lady Virginia Ibiza is not your typical excursion boat, we are a great team ready to ensure you have an amazing, memorable experience.
The captain will decide according to the weather the best course to take so that you feel at ease and enjoy the incredible coasts of Ibiza.
If we head north we will cross famous areas where you can enjoy the best sunsets on the island, such as Caló des Moro, Cala Gracio, Cap Negret and Punta Galera, which are surrounded by rock formations that make them unique on the coast. As we approach Cala Salada, we can see the cape of Cap Nonó with its imposing cliffs.
If we head south we will cross the famous natural pools of the old quarry of Sa Pedrera, the beautiful beach of Port D'es Torrent; famous for its calm, crystal clear waters. As we approach the incredible beach of Cala Bassa we will be able to observe and enjoy the large caves and crevices hidden along the coast.
We will set sail on board our boat from the Port of San Antonio.
Our crew will give you a short briefing so that you can familiarise yourself with us and our boat.
During the excursion we will make a stop to enjoy all the services offered in Lady Virginia Ibiza.
Once the excursion is over, we will drop you off at the starting point.
Come and enjoy this special experience!
WEDDINGS AND POST-WEDDINGS